"If you want to go fast, go alone. If you want to go far, go together."
You have most likely heard that saying before.  After some brief research online, I found out it's an American proverb, so I am not sure who to credit for saying it, but I love it. This proverb brings me to the topic of delegation. Delegation is very high on a business leader's skill list and one that can be difficult to master or feel comfortable with. Delegation will help determine how far you can take your team and how successful you all will be.
For myself, I have gotten more comfortable with delegating by lowering my pride in ownership.  The bottom line is: projects and tasks just need to get done, even if they're not done exactly how I want them to be.
For those of you who are ready to up your delegation game, I discovered this delegation method that compares importance and your own skills.  This is a great decision grid that helps you put your tasks into buckets and start to delegate.
How to Start?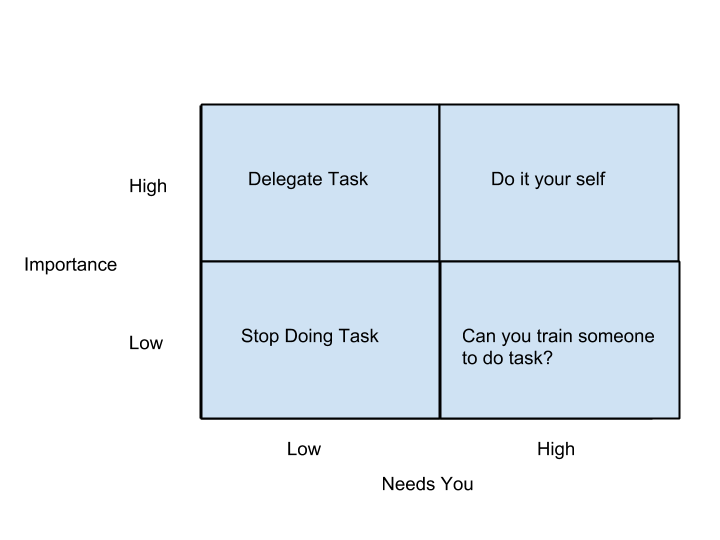 Look at any task that you do and ask yourself two questions: "Is this an important task?" and "Does this task require my specific skills?"
If a task is low importance and doesn't really need you, why is anyone even doing it?  Consider stopping this task entirely.
If a task is high importance but doesn't need your skills, it is a good one to delegate.
If it's high importance and really does need your skills, then it may be a task you need to keep.
By  following the layout of this delegation grid, you can stop doing the tasks that are not important, move off the tasks that others can become qualified to take on, and focus on the tasks that require your skill set as a leader.  It's really simple and based upon how important the task is vs. the task needing you to compete.
You may find something like your TPS report is low importance and doesn't need you, so stop doing it.  Your accounting and billing work is highly important, but you can delegate it to an accountant or bookkeeper who are able to handle that task better than you can.  Maybe you have been the only person to meet and create proposals for new prospects? It may need your special touch at the end, but can you train someone to do 95% of the legwork, and you give final approval on pricing the project?
As you make progress through your tasks to delegate you will find more time to devote to the important tasks only you can accomplish, and you might even find some free time for yourself.
Handling Questions From Your Team
"What do you want me to do?" or "What should I do?" or "How do you want me to do that?" were questions I got from my team a lot when I started doing more delegation.  This is human nature—people really want reassurance that they are completing a task the way you want it done. It's a normal CYA procedure.  However, if I always have to give the green light to every decision, have I really delegated a task? Probably not.
I did find a simple process to solve this… almost by accident. When a teammate asked, "What should I do?" I would ask, "What do you think?"  They would respond with a plan, and then execute the plan. Over time, they knew I trusted them to complete tasks to the best of their abilities, and they stopped asking for my opinion because they started to feel comfortable.
Your work vs. your team's work
It's hard to get started giving up work to others.  I know it's a scary process to make sure that your team members can meet the high standards you expect when working with your clients, but you can find ways to train any teammate to do your task as well or better than you do.  Follow these steps and, not only will you have your team trained, but they will be ready to crosstrain the next person as well.
Training process for delegated tasks
#1: The first time through, you will not be delegating. Just have your team get a feel for the process by taking notes, asking questions about why and how you did the task.
#2: As you are going through the process, review notes with your team regularly so they can ask clarifying questions, and you can get a feel for how they are grasping the task.
#3: Complete the process and do a final review of notes with your team.
#4: Have your team take the notes and turn them into a how-to guide on "your way" of doing the task.
#5: Review their how-to-guide and add detail as you see fit.
#6: Repeat, Clarify, and Refine 2 more times with your team for total knowledge capture
#7: Add the how-to guide to your training manual
#8: Delegate the task….and move onto more important tasks
Follow these steps and before you know it, you will have a training manual for future team members that you can add to your onboarding process.  Oh, and you will have a shit ton more time to get the tasks done that you really need to be working on.