My favorite email productivity tool, Boomerang, sends out this great year in review email each year.  The email  breaks down how you have used your Boomerang to schedule emails to send over the last year (I shared what Boomerang is in my Free Tools post).
The Year in Review provides you with graphs that show when you wrote your emails and when Boomerang delivered them, as well as several other graphs full of beneficial data.
Here's mine: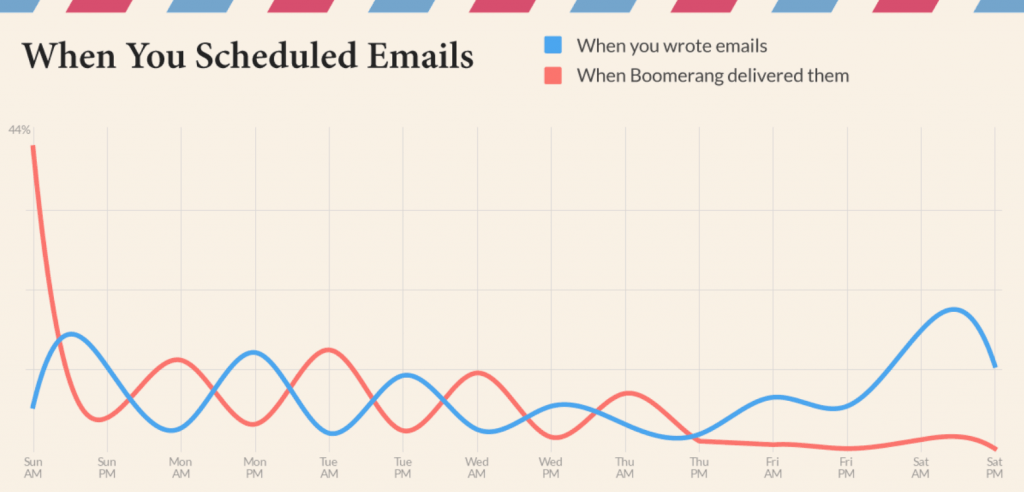 I find it fascinating that for my graph, it's much calmer during the week, and the graph of my scheduled emails inclines greatly towards the end of the week. This year in review provides you with great information that has a lot of value on how you utilize your email inbox management.
When and How I Schedule My Emails
One of the things I want to focus on is when I schedule emails. On the graph, you can see I do a lot of writing and scheduling emails on Saturday afternoon, and my busiest time of delivering begins on Monday and climbs through Monday afternoon. During the week, Monday 8am-noon is my high point.
This data is from 2017, and in 2018 I have found a system that works better for me. So for next year's review, we will see a different trend on this graph. For this year, you will see that more of my emails were being written on the weekend. Saturday and Sunday are the perfect time for me to write my emails because it prepares me to hit the ground running for the week. The main reason I write my emails on the weekend, especially Saturday morning, is because it gives me more time, and allows me to spread my processing time over a couple days rather than writing all my emails on Sundays like I did in 2017.
On this graph, you can see I am writing emails in the evening and delivering them the next morning. I am writing to deliver later, so I am not getting emails into my inbox and replying immediately as I see them. It is just an ebb and flow back and forth. I am writing and sending, then receiving and processing to send again later.
You can see how Monday is pretty consistent vs. Tuesday, and then on Tuesday through Thursday there is a steady decline. This is because I front load my week due to the way I am emailing and when people are responding. I am writing emails still on Friday, but not scheduling Boomerang to deliver them later because if I am writing them during business hours, I just want them sent right away, especially before the weekend. Then, if someone hadn't gotten back to me by Sunday, it Boomerangs back to my inbox and triggers me.
The other thing I am doing new this year is if I write the email Wednesday or later, I have it Boomerang back to my inbox the following Wednesday, not Saturday or Sunday. If I am writing it early on in the week, say Monday or Tuesday, then I have Boomerang send it to me again on Saturday. This gives people more time to respond and does not compress so much of my information down into one week. I noticed that this spreads my workload out a little more through the week.
It will be interesting to compare the graphs between 2017 and 2018, but it should definitely change a little bit based on my new emailing process.
Distractions
Inbox Pause is a major feature of Boomerang, allowing you to pause your inbox and stop new emails from coming in.
Boomerang talks about it taking a full minute to recover your focus if you are distracted by a new email coming in.  I actually think it is even longer than that. I would venture out to say it'd be more like 8+ minutes for me to get back on track if I get distracted.
In the year in review, Boomerang tells you how many emails were stopped along with how much time was saved. I personally think the time saved number is a little low compared to what is happening in reality.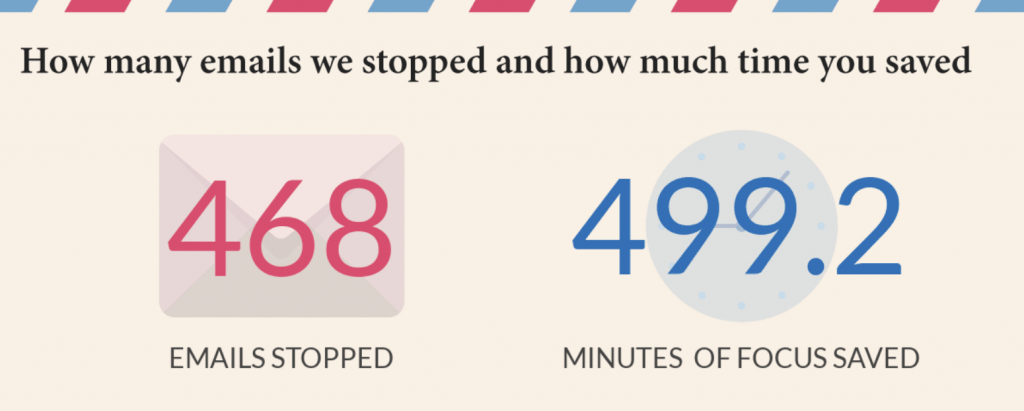 Using today as an example, when I scroll through my inbox, I can see there are a handful of messages that have come in since I paused my inbox. If that happens at least every day, these numbers just seem a little light. I probably have 15 to 20 messages, if not more, per day stopped.
So, I am saving a lot more time than this, but it is still interesting to see the value you get out of the inbox pause feature, and why you want to stay out of your inbox to avoid the distractions as much as you can. It helps you get tasks done, and in return you get more value out of your work instead of just doing busy work.
Tracking Messages vs Hold
The last section I want to go over from the review is "Tracked Messages."  This is a feature where Boomerang will send an email back to your inbox if your recipient never replies to it.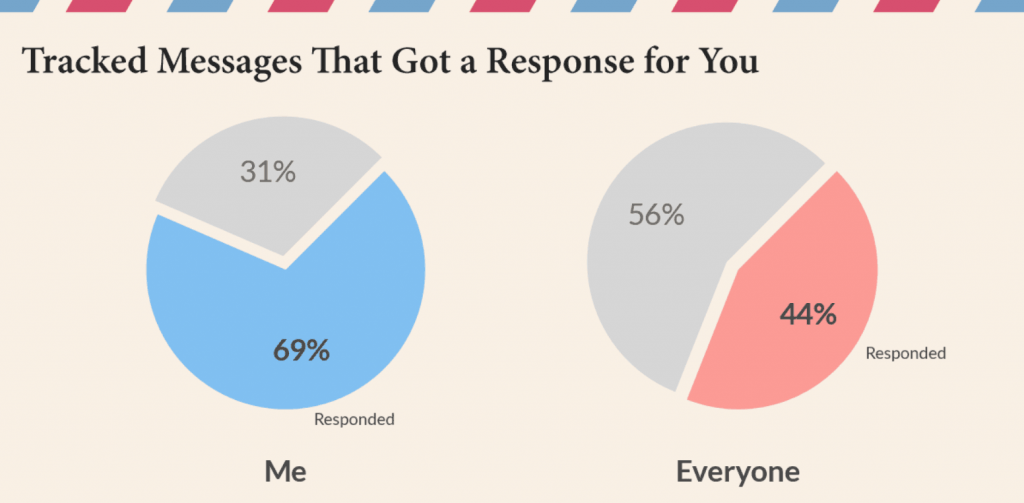 So, the pie chart on the left is my data, and the chart on the right  is the average data of everyone  who uses Boomerang. So in my case, of my tracked emails, 69% of the time the recipient responded back. Only 31% of the time the Boomerang was sent back to me, and I needed to poke that person again.
That is a pretty good percentage, and I am getting more into using this function this year vs last, so this number will likely decline. The reason I am trying to utilize this function more is because, for instance, looking at my current inbox, I can see the Action items are pretty small, and the Holds are too.
What I have noticed is I was having 15-30 or more Hold items, and much fewer Action items. These really did not need to be hold items. So things that I want to continue to see movement on every week is more the way I am using my Hold now vs. just everything. Instead of the Hold label, I am using the Boomerang "return to me if not responded" feature.
The feature can be found at the bottom of the email in Gmail if you have Boomerang installed. It says "Boomerang in [timeframe] if no reply." I use that a lot more on things that I do not need to see, or care to see, mid-week movement on. I am also using it if I want mid-week movement, so if I am writing a Tuesday email, and I need an answer by Wednesday at close of business, than I change this feature to say "Boomerang on Wednesday at close of business if not reply." That will help nudge me and keep this process or project moving faster.
I think that these numbers will actually decline this year because I have been using this function a lot more. Hopefully I do not move as low as everyone else. I am hoping to stay above the watermark and stay in the 50s, but I would assume it would come down from the almost 70% that it was last year.
Email Response Study
Boomerang also provides some good information at the bottom of the year in review email about email openings, and which one is the most effective. I use "Hey" as my opening to my emails the most. So, I am just going to keep doing what works!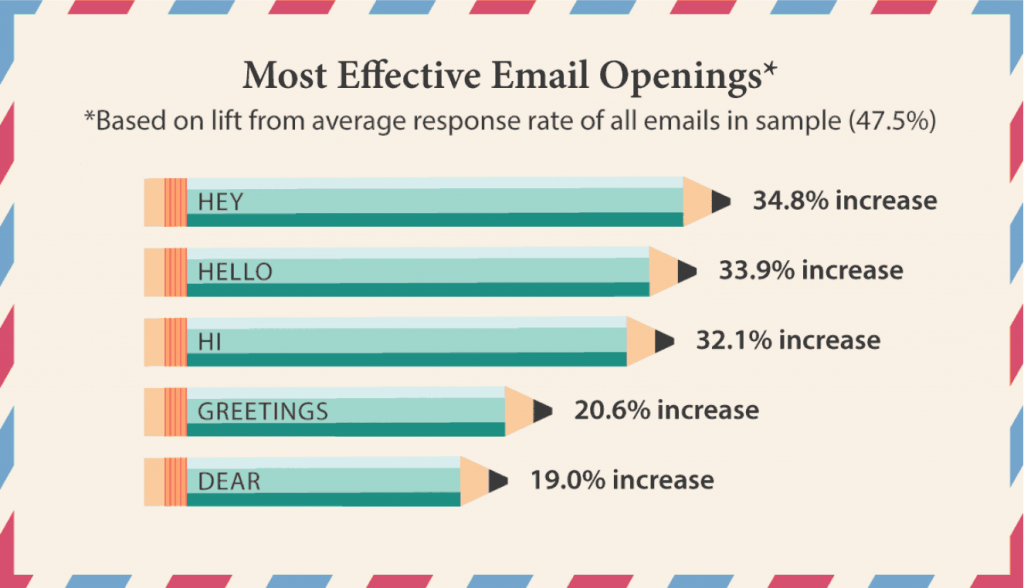 Now that I am using the features in Boomerang more, it will be interesting to see how 2017 compares with 2018.
Going over the data in this review helps you learn what works for you, and what you may need to change when it comes to your email inbox system. In return, this will help you save time in the future, be more organized, and create the most effective and efficient system.